Jako Neoprene Front Zip Warm Fleece Lining Hooded Full Suits 7 mm GBS Keep Warm Adult Scuba Diving Custom Wetsuit ODM OEM For Men
Place of Origin:

Xiamen, China

Feature:

1) Anti-Bacterial, Anti-UV;
2) Breathable, Nontoxic, Waterproof, Windproof.
3) Warm fleece lining to be better for keeping warm.
4) Double griped design for wrist.
5) GBS (Glued Blind Stitching)

Brand Name:

WETOP or Customization

Model Number:

WW-1201

Product Type:

Diving / Scuba diving / Freediving Wetsuit

Style:

GBS, Front zipper, Fleece lining, 7 mm.

Age Group:

Adults

Gender:

Men

Size:

S, M, L, XL, 2XL, 3XL, 4XL; Accept your own size fitting

Color:

As Pictures or Customization

Material:

Inside: Warm fleece cloth
Middle: Jako neoprene
Outside: Super elastic cloth

Pattern Type:

Printing, Heat transfer

LOGO:

Customization

MOQ:

100 pcs

Packing:

1 piece ( set ) / OPP bag or Customization

Supply Type:

ODM / OEM Service
PRODUCT TIPS:

MATERIAL
1) High-end JAKO 7mm CR neoprene is more flexible, durable and the warmest
2) Super elastic cloth lets JAKO neoprene perform completely
3) Warm fleece cloth keep our body be warmer
2. DESIGN
1) Smooth skin seal cuff and hood let waterproof be better
2) Reinforcement knee pads let our knees be safer
3) GBS stitching to avoid water better
Wearing the lining hooded wetsuit, you can brave the cold waters for freediving, and scuba diving. Not only for casual activities but also for deep water operations.
The lining hooded wetsuit is usually thick, but not bulky or stiff. Thanks to new super-stretchy neoprene technology, hooded full-body wetsuits are now flexible enough to fit your body and give you the mobility you need. Look for sealed leak-proof seams, also known as GBS (glued and blinded stitching) and tape, which virtually eliminate water penetration. You can also choose a hooded wetsuit with a poly-wool fiber lining to wick water away from your body, and an anti-rinse gasket to further reduce the cold water entry.
As a professional OEM/ODM manufacturer with extensive product development experience and vertically integrated manufacturing, we are committed to providing our customers with innovative designs, systematic production and timely service to meet their needs in a comprehensive and efficient manner. Our customers' requirements. Wetop Sports has a stable R&D team, friendly and fast service quality, and a high level of employee cohesion to ensure that products are delivered at the right time with the right quality.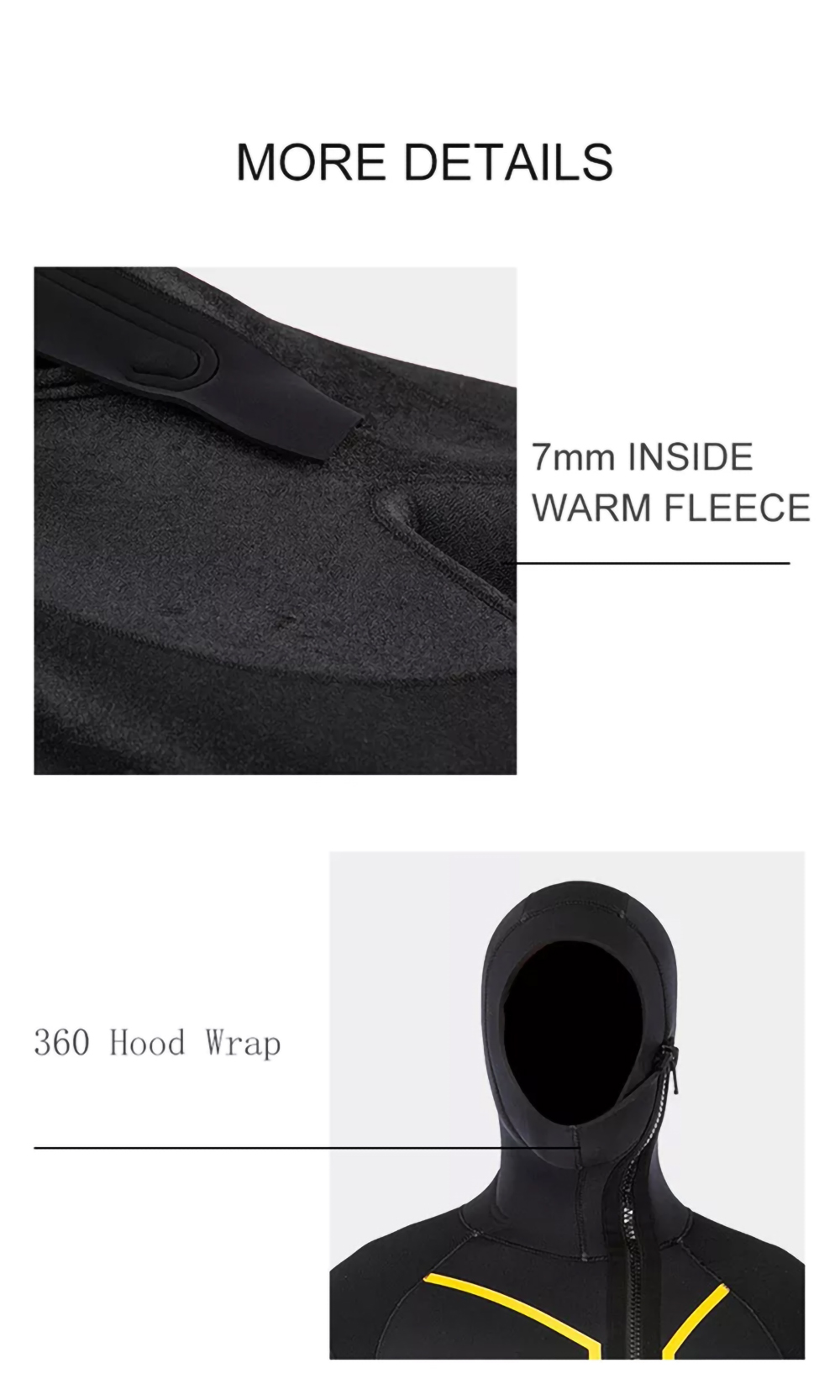 Dive Deeper with the Jako 7mm Scuba Wetsuit
Exploring the hidden wonders of the underwater world demands not only a sense of adventure but also the right gear to ensure a safe and enjoyable experience. Whether you're an experienced diver or just embarking on your underwater journey, the choice of a wetsuit can significantly impact your comfort, mobility, and overall satisfaction during your dives.
The Essence of Comfort
Diving into chilly waters can be exhilarating, but it also requires protection against the cold that can sap away the joy of exploration. The Jako Warm Wetsuit has been meticulously crafted to provide exceptional thermal insulation, ensuring that your body remains cozy even in the most frigid conditions. At its core, the 7mm neoprene material acts as a barrier against the cold, while the fleece lining enhances its insulation properties. This unique combination creates a microclimate of warmth around your body, extending your dive time and allowing you to fully immerse yourself in the underwater realm.
Innovative Hooded Design
The hooded design of the Jako Wetsuit serves as a game-changer for divers who seek not only warmth but also versatility in their gear. The integrated hood minimizes heat loss from the head and neck areas, areas that are particularly vulnerable to temperature drops. This thoughtful addition reduces the risk of hypothermia and adds an extra layer of protection against the elements. The adjustable hood ensures a snug fit, further enhancing the wetsuit's heat retention capabilities. Additionally, the hood's ergonomic design doesn't compromise on comfort or peripheral vision, allowing you to stay connected with your surroundings while staying warm.
Unrestricted Movement
A wetsuit should never hinder your movement; instead, it should facilitate fluid motion underwater. The Jako Warm Fleece Lining Hooded 7mm Scuba Diving Wetsuit boasts an anatomical cut and a flexible neoprene material that ensures unrestricted movement. Whether you're navigating intricate coral formations or swimming alongside marine life, this wetsuit adapts to your body's movements seamlessly. The contoured design not only enhances mobility but also reduces drag, allowing you to glide effortlessly through the water and conserve energy during longer dives.
Durability That Endures
Investing in quality gear is an investment in the longevity of your diving experiences. The Jako Wetsuit's durability is a testament to its meticulous craftsmanship. The reinforced knee and elbow pads offer protection against abrasions, ensuring that the wetsuit remains in top-notch condition even after numerous underwater adventures. The glued and blind-stitched seams not only prevent water leakage but also enhance the wetsuit's overall durability. This attention to detail ensures that the wetsuit can accompany you on countless dives, maintaining its performance and integrity throughout.
Embracing Style and Function
Diving isn't just about functionality; it's also about expressing your individuality and style. The Jako Warm Fleece Lining Hooded 7mm Scuba Diving Wetsuit strikes the perfect balance between aesthetics and function. Its sleek and modern design is not only visually appealing but also aerodynamic, contributing to enhanced hydrodynamics. The wetsuit's refined appearance is complemented by a range of color options, allowing you to choose a style that resonates with your personality and preferences.
In the realm of scuba diving, where comfort, mobility, and protection are paramount, the Jako Warm Fleece Lining Hooded 7mm Scuba Diving Wetsuit reigns supreme. Its innovative design, featuring a blend of cutting-edge materials and thoughtful construction, ensures that every dive is a journey of comfort and discovery. Whether you're a seasoned diver pushing the limits or a novice embarking on your first underwater adventure, this wetsuit is a testament to the marriage of technology and passion for exploration. Embrace the depths with confidence, warmth, and style – embrace the Jako experience.