Is it your first time wearing a wetsuit and you don't know which one to choose? This wetsuit temperature guide will help you choose the right thickness for the water temperature. The thickness of your wetsuit will determine how warm you stay in the water. It will also determine how flexible the suit will be. Both of these factors will affect your energy level throughout your time in the water.
Choosing a wetsuit with the right thickness and flexibility will make a difference. The following wetsuit temperature guide will help you make the right choice.
Wetsuit Temperature Guide Basics
While the wetsuit you purchase will come with the manufacturer's temperature ratings, they are not always the most realistic. In addition to the charts provided by the wetsuit manufacturer, you will need to keep the following basics in mind.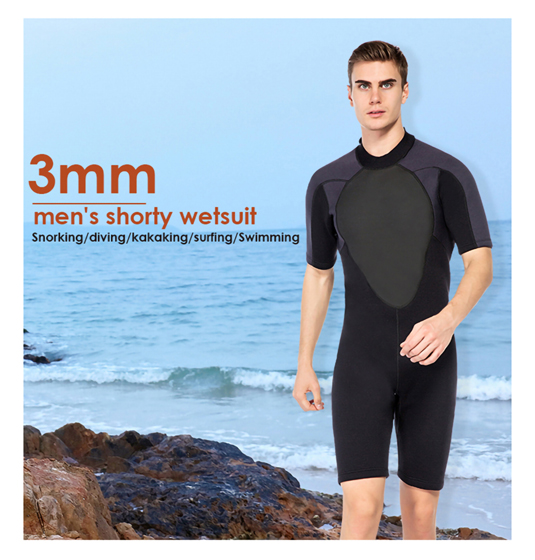 Custom Wetsuit
Water temperature is just the beginning
You also need to consider the air temperature. In some climates, the air temperature can be quite warm, while the ocean is cold. Often, if the air is warmer, you can wear a thinner wetsuit than is usually recommended. The wind must also be taken into account as it can quickly change the feel of the air and water. It is important to consider the temperature of the wind chill before choosing the right thickness for your wetsuit.
You should also consider the activities you will be performing and your own cold sensitivity. Everyone is different and if you are diving as opposed to surfing, you will need a thicker wetsuit.
Colder water = thicker wetsuit
Neoprene will provide a layer of insulation for the weather elements, so the thicker the suit, the more insulation you will have. Coldwater can be very harmful to your health. Make sure you have a wetsuit that is thick enough to protect you from the elements.
Quality of wetsuit
Wetsuits come in many different qualities. A big part of choosing the right wetsuit for the water temperature is the quality of the wetsuit.
A high-quality winter wetsuit won't let water in very easily. If it was made with a double-blind stitch, taped seals, or liquid sealing, it will be harder to penetrate. Don't go cheap when buying a winter wetsuit or you will likely be disappointed.
Back Zip Surfing Custom Wetsuit
A simple wetsuit temperature guide
If the water temperature is 77 degrees Fahrenheit or 25 degrees Celsius, then a wetsuit is not required. In some cases, any temperature below 77 F or 25 C should be worn with a wetsuit.
Suitable temperature wetsuits are.
72F-77F (22C-25C) - short stature in the morning, evening, and windy conditions.
68F-72F (20C-22C) - Shorts or spring suit (3/2 full) suitable for surfing in cold or windy conditions.
64F-68F (18C-20C) - Full 3/2 set or spring set.
59F-64F (15C-18C) - High quality 3/2 full suit or 4/3 wetsuit with short boots.
54F-59F (12C-15C) - A 4/3 wetsuit with boots is fine, but for extended exposure, a 5/3 suit with boots is best.
48F-54F (9C-12C) - A 5/3 or 5/4/3 wetsuit with boots and gloves is required. In windy conditions, you may need a hood.
48F (< 9C) - 5/3 may work, but the best choice is a 6/5/4 wetsuit. 5 mm or thicker hoods also require high-quality gloves and boots.
In some cases, choosing the right wetsuit can be a matter of life and death. In less extreme conditions, it will be the difference between comfort and cold and pain. Make sure you use the wetsuit temperature guide above to help you make the best choice.
As a professional ODM OEM manufacturer in China, Wetop Sports has been specializing in providing custom water sports equipment for several years, such as wetsuits, drysuits, diving masks, fins, flippers, life vests, buoyancy aid, surfboard, and other relevant accessories. For more information about custom wetsuits, welcome to contact us at +86 592 6536 876 or write to us at enquiry@wetopsports.com. We will be happy to help you out!