Wetsuits are designed to take advantage of water and body heat to keep you warm while swimming, diving, or participating in water sports. As long as the correct thickness and type of suit are used for the water temperature, they can be very effective. With some consideration, you can find a suit that will be of great help in any cold water you encounter. So, how does a wetsuit help in cold water? Read on to find out more!

Thickness
The thickness of a wetsuit varies from person to person. Measured in millimeters, the thicker the wetsuit, the lower the temperature it allows you to handle. 7 mm suits can withstand temperatures of around 38 degrees. Wearing less than 2 mm, you will only be able to go underwater at 70 degrees or better.
Cut/style
The cut of your wetsuit will also affect how warm you are in the water. Spring suits work well in summer when the water is warmed by the sun. Sleeveless short-legged wetsuits offer minimal coverage ideal for warm water conditions. Surfers often prefer this style as it gives them the flexibility to move and surf without the full suit affecting their performance. When you are competing in icy waters, a full suit will be the best choice as it protects the entire body from the elements.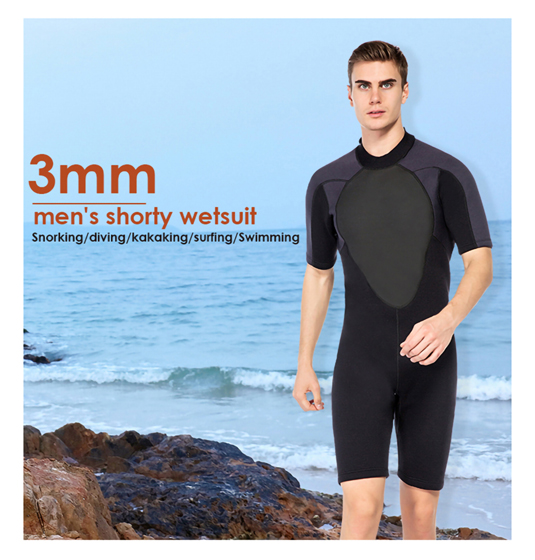 3mm Wetsuit
Accessories
A wetsuit is not all you need when the water temperature plummets. Certain accessories should be worn with your suit to ensure overall warmth and comfort. You may want to buy a pair of swimming socks or boots, which will also keep your feet warm. Gloves can also come in handy. You can also wear a hat or hood to ensure your head stays warm and you don't get sunburn around your ears.
Exercise
The type of sport you play will also determine the type of suit you need. If you are surfing, sitting on a surfboard, you can usually wear a thinner suit. If you are driving, you will always be exposed to cold temperatures below the water's surface and a SCUBA jumpsuit would be the best choice. For example, surfing in 58-degree water requires a 4/3 mm wetsuit. Scuba diving in the same water requires a 7mm jumpsuit that can withstand lower temperatures when fully submerged.
How should a wetsuit fit?
A wetsuit should fit like a second skin, with no sagging at the back and no excessive bunching at the arms or legs. It should fit snugly so that only a thin layer of water remains between your body and your suit. If your suit is loose, large amounts of water will wash away and make your suit less effective at keeping you warm. The wetsuit should also fit snugly around your neck (many people wear a bodysuit under their wetsuit to prevent neck rashes). Most women wear a swimming costume underneath for extra protection and support.
Fit is a very important consideration when buying a wetsuit. If your wetsuit doesn't fit properly, it won't keep you warm or provide the flexibility you need to exercise. Consulting a specific brand's wetsuit size chart is the best way to start your search for the right wetsuit.
Wetsuit fit checklist
There should be no extra room in the torso, hips, shoulders, or knees when wearing a wetsuit. A well-fitting wetsuit can be difficult to put on when dry. (Pro tip: wearing socks will make it easier to slip your feet in!)
Once you have started, raise your arms above your head and extend your shoulders. This move should be only slightly restrictive. If you feel a lot of pressure in this movement, then the set is too small.
You should be able to squat and move your arms easily (wetsuits over 5/4 mm are inherently restrictive).
If you are still unsure if a wetsuit is right for you and would like more information, please email enquiry@wetopsports.com or visit https://www.wetopsports.com. Our customer service representatives are here to help you!