Increasingly popular water sports

As we know, nowadays there are more and more vacationers who want to relax their minds by exploring the adventure in water sports. Such as Jet skiing, Parasailing, Paddleboarding, Waterskiing & Wakeboarding, Surfing & Bodyboarding, Scuba Diving, Kayaking, Sailing, Skim Boarding, Swimming, Waterpark / Aquapark splashing, … etc. because these activities can let us stand much closer to nature, hence these kinds of activities are so popular all over the world, especially tropical countries as the temperature here is the most suitable for playing outdoor.

What is the waterpark / aquapark?

As one water sport, in the beginning, a waterpark/aquapark is like a public swimming pool, but it has so many facilities that can increase playability for players. Now it has changed so much, this activity is not only for indoor but also for outdoor, the outdoor waterpark/aquapark includes the general park, wild lake aqua park with an inflatable floating waterpark, you can see the below picture to know what is different.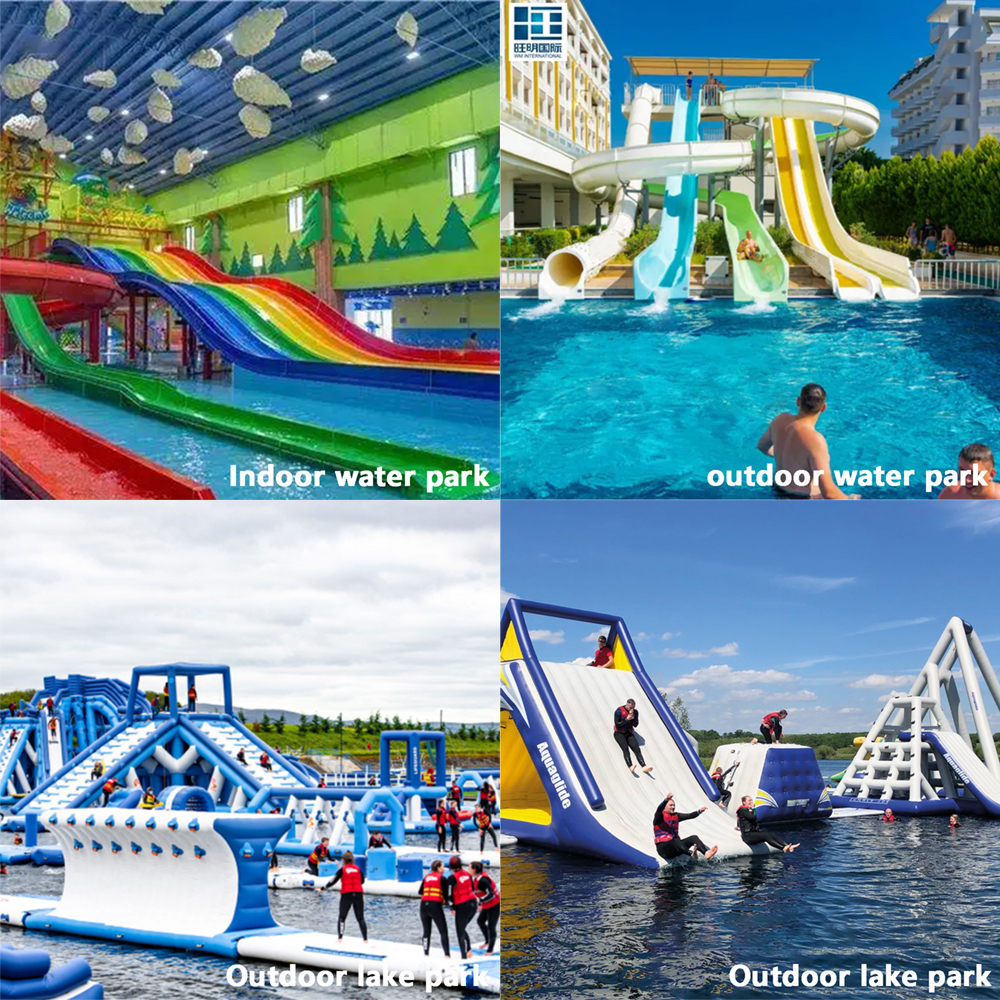 Waterpark / Aquapark splashing distinctiveness

Why say it is distinctive, there are several reasons:

1. The first factor to affect water sports is temperature, the water will take away our body heat faster than air by 25 times when we play, then let us feel freeze quickly. Especially when playing extreme adventure water sports. But the waterpark/aquapark splashing is the activity that our body moves so much so that our body will make more heat to let us be warmer.

2. The second factor is the location limitation of the water sports. Most other water sports only can be held on the sea. River, but the waterpark/aquapark can be set in anywhere, such as downtown, countryside, lakeside, … etc.

3. The third factor is for suitable people, other water sports are usually for professional players, but the waterpark/aquapark can be for any people, even kids. People also can play together, especially with friends, and family members. Then it would be more interesting.

4. The final factor is the season limitation of the water sport, In general, we only choose warm places if we want to play the water activities, such as all over the year of the equatorial countries, Summer in other area countries. But the waterpark/aquapark splashing can let us play more now, such as the spring and fall of non-equatorial when wearing the wetsuit for outdoor or opening AC for indoor.


Wetsuit at waterpark / aquapark / lake park

For this, maybe it is a little bit difficult to understand for many people, so we should talk about what is the wetsuit first.

A wetsuit is a garment that is worn to provide thermal protection when wet. It is often made of foam neoprene and is worn by surfers, divers, windsurfers, kayakers, and others who engage in water sports and other water or water activities. Its purpose is to provide insulation and protection from wearing a wetsuit, UV exposure, and bites by marine life. It also provides extra buoyancy. The insulating properties of neoprene foam depend primarily on the enclosed air cells within the material, which reduces its ability to conduct heat. Air bubbles also make the wetsuit low in density, providing buoyancy in the water.

Therefore, when we want to play water sports in cold water in the cool weather, we can wear wetsuits for different activities. Such as surfing, spearfishing, freediving, scuba diving, snorkeling, waterpark/aquapark/lake park splashing. But why now there are only several countries (UK, Ireland, Norway) where the players wear the wetsuit for waterpark/aquapark/lake park splashing? Maybe the reasons are below:

1) Climate, as we know, the UK, Ireland, and Norway are all "the great island", so the weather is so cool and wet than in other places.

2) Culture, is a kind of special regional culture. It is similar to wearing totally different clothes in different countries.

Waterpark / aquapark / lake park wetsuit prospect
If the wetsuit will be more and more popular in aqua adventures splashing all over the world? It should be yes, because:

1) The wetsuit can let people be safer when splashing in the waterpark/aquapark/lake park.

2) The wetsuit can extend the park operating times to spring and fall, especially for the wild lakeside aqua park.

3) The wetsuit also can bring extra income by rental or resale as its cost supplying from wholesale wetsuit manufacturer should be cheap.

So maybe we will see there are also many people who wear the wetsuit in the waterpark/aquapark/lake park in the USA, France, Canada, and Australia. ….